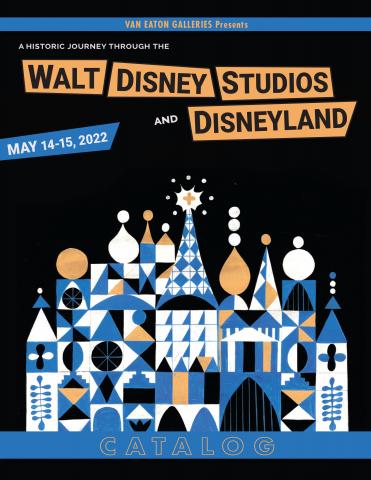 Production:
Studio:
Art Type:
Medium:
A softcover catalog for our May 2022 "A Historic Journey Through The Walt Disney Studios and Disneyland" auction. This gorgeous collectible reference catalog measures 11" x 8.5" and features lovely full-color imagery for over 900 items available in the auction, detailed across over 300 pages.
Van Eaton Galleries is proud to present A Historic Journey Through the Walt Disney Studios and Disneyland, our latest exhibition and auction of over 900 Disney artifacts. The collection includes many one-of-a-kind and exceptionally rare items from the history of both the Disney Studio and Disney Parks. Highlights of the Walt Disney Studios include an original production background from the Oswald the Lucky Rabbit cartoon "Ozzy of the Mounted," the original artwork for a 1932 Mickey Mouse comic strip, a Gustaf Tenggren layout drawing for Snow White and the Seven Dwarfs, an original Walt Disney Studios animator's desk, original Mary Blair concept paintings, rare animator's maquettes, Walt Disney autographs, and much more.
Highlights from the Disney Parks include a large entrance "Welcome" sign from Disneyland, a wooden sign from a Jungle Cruise boat, silkscreened attraction posters, an original Pirates of the Caribbean concept painting by Marc Davis, an original Sleeping Beauty Castle concept by Eyvind Earle, an original It's a Small World concept by Mary Blair, pre-opening Tomorrowland concept drawings by Herb Ryman, and much more.