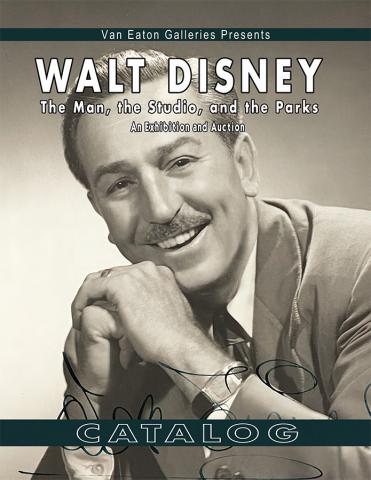 Production:
Studio:
Art Type:
Medium:
This is the limited edition hardcover version of the catalog catalog for our December 2020 "Walt Disney: The Man, the Studio, and the Parks" auction. This gorgeous collectible reference catalog measures 11" x 8.5" and features lovely full-color imagery for over 800 items available in the auction, detailed across over 300 pages.
THIS HARDCOVER CATALOG WAS PRINTED IN A STRICT LIMITED RUN OF ONLY 100 COPIES!
Van Eaton Galleries is proud to present Walt Disney: The Man, the Studio, and the Parks. This incredible auction will be held on December 5th, Walt's birthday, and contains over 800 rare artifacts relating to the legacy of Walt Disney. This collection spans the early years of Walt's youth, to the success and growth of his studio, to the beloved theme parks throughout the world. Highlights of this collection include hand-drawn original artwork by Walt himself, original letters from Walt to his friends and family, rare Kem Weber designed Walt Disney Studios animation desks and furniture, early original drawings for Walt's backyard Carolwood Pacific Railroad, and some of the earliest original drawings of what would become Disneyland, as well as Disney Parks signage, props, costumes, and much more!