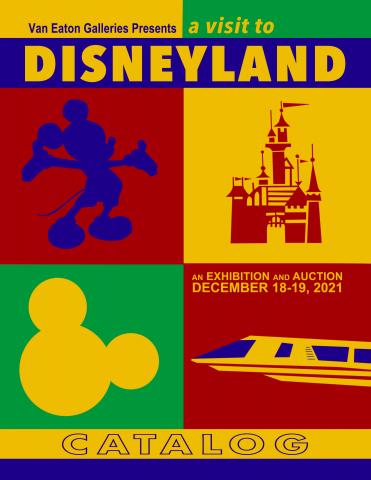 Production:
Studio:
Art Type:
Medium:
This is the hardcover version of the catalog catalog for our December 2021 "A Visit to Disneyland" auction. This gorgeous collectible reference catalog measures 11" x 8.5" and features lovely full-color imagery for 700 items available in the auction, detailed across over 270 pages.
THIS CATALOG IS PRINTED IN AN EDITION OF ONLY 50 COPIES. ORDER NOW, WHILE SUPPLIES LAST.
Van Eaton Galleries is proud to present our newest Disney Parks auction, A Visit to Disneyland. Highlights of this collection include an original Skyway vehicle, original Disney paintings by Christian Lassen which will benefit Ronald McDonald House Charities of Greater Las Vegas, artifacts from Pixar's Up which will benefit The Ed Asner Family Center, several large character displays from the Disney Stores, original Walt Disney signed documents, original audio-animatronic components, park-used props from Disneyland and Walt Disney World, one of the earliest Haunted Mansion concept renderings from Walt Disney World, stunning miniature models of the Haunted Mansion by artist Bridget McCarty, original silk screened attraction posters, and much more.